An der Börse gehen die Kurse immer auf und ab, die Aktien und die Währungen sind einmal mehr, ein anderes Mal wieder weniger wert. Ähnlich ist es mit der Wertschätzung, die wir von anderen erhalten, sie ist einmal mehr und ein anderes Mal weniger.
Wir glauben ein besserer Mensch zu sein, wenn wir gelobt werden und ein schlechterer, wenn wir geschimpft oder abgewertet werden. Von der Band "die Ärzte" gibt es das Lied: Lass die Leute reden… Es ist wichtig, dass wir selbst nicht negativ bewerten, was andere über uns sagen und dass wir uns nicht von abfälligen Bewertungen oder von der Anerkennung der anderen abhängig machen.
Der Mensch mit einem goldenen Herzen versucht immer ein besserer Mensch zu werden, egal was die anderen sagen, denken oder tun. Und ich kann euch versichern, die Möglichkeiten des lebenslangen Lernens und der Weiterentwicklung sind unendlich, es gibt keine Wachstumsgrenze für Lebensqualität und Glück. Glück und Liebe sind unendlich.
Ich empfinde immer wieder Momente, des Staunens der Dankbarkeit und Freude, die mich tief bewegen. Mich begeistert die Schönheit des Lebens, die Vielfalt der Natur, die Größe des Universums und die Güte und Großzügigkeit von Menschen mit goldenen Herzen.
Bitte schreibt mir Erlebnisse, die euch wunderbare Gefühle bescheren. Momente in denen es gelingt zu staunen, zu vergeben, Zeiten von Mut und Hoffnung, Zeiten in denen Glück und Liebe spürbar ist. Es ist wichtig, dass wir uns über unsere Glücksmomente erzählen, über Dankbarkeit, Wertschätzung und liebevolle Begegnungen. Wer Glück, Wertschätzung, Dankbarkeit und Liebe sät, der wird diese auch ernten. Fragen sie einen Landwirt, der wird das bestätigen. Auch das ist Lebensintelligenz.
Eine gute neue Woche
Gertrud Müller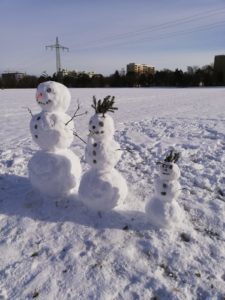 Foto Silvia Tauchmann
Degradation and elevation
Stock markets go up and down, shares and currencies are sometimes more, sometimes less valuable. Similarly, we sometimes receive more appreciation from others, sometimes less. We believe we are a good person when we receive praise and a bad person when we are reprimanded. Die Ärzte (a German rock band) wrote the song 'Let people talk…'. It is important not to think negatively about the things others say about us and it is important not to become dependent on negative comments or the praise of others. The person with a golden heart always tries to become a better person, no matter what others say, think or do. And I can assure you, the opportunities for lifelong learning and growth are endless, there is no boundary for growth of quality of life and happiness. Happiness and love are never ending. Again and again, I experience moments of awe, gratitude and joy that move me deeply. I am inspired by the beauty of life, the diversity of nature, the extent of the universe and the kindness and generosity of people with golden hearts. Please write to me with your experiences that make you feel wonder-ful. Moments in which it is possible to marvel at something, to forgive, times of courage and hope, times when you feel happiness and love. it is important that we share our moments of joy, that we talk about gratitude, appreciation and loving encounters. He who sows happiness, appreciation, gratitude and love, will harvest happiness, appreciation, gratitude and love. Ask a farmer, they will confirm this. That is life intelligence.