Kinder haben oft viele gute Ideen. Die Erwachsenen sagen ihnen dann, das geht nicht, das gibts nicht, das macht man nicht, das darf man nicht. Wie schade, so verbiegen wir das Denken der Kinder, wir rauben ihnen den Mut, Neues zu wagen. Und als Erwachsene sind wir nur mehr Kopien der Masse, weil wir jede Originalität verloren haben. Wagen Sie, mal etwas Neues zu machen, etwas ganz anderes als das Alltägliche. Probieren Sie ein neues Rezept, lernen sie neue Menschen kennen, lernen Sie ein neues Hobby, fahren Sie an einen anderen Ort, beschäftigen Sie sich mit anderen Wissensbereichen, mit anderen Meinungen, unterhalten Sie sich mit Außenseitern, hören Sie Ihnen zu.
Nur wer den Mut hat, zuerst über den eigenen Tellerrand hinaus zu schauen, wird auch den Mut haben, einen eigenen und originellen Lebensweg zu gehen. Mitlaufen kann jeder, etwas anderes zu machen als der Mainstream: das erfordert Mut.
Nicht umsonst heißt ein Sprichwort: den Mutigen gehört die Welt. Es gibt nur eines zu beachten beim Thema Mut: wir sollten bei allem Mut nicht übermütig werden, denn das haben wir auch gelernt: Übermut tut selten gut.
Ich wünsche uns allen eine mutige neue Woche
Gertrud Müller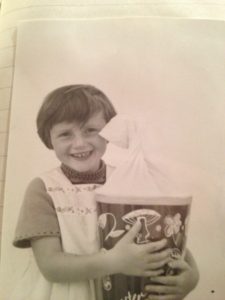 Courage
Children often have many good ideas. The adults then tell them that doesn't work, that's not how it's done, that's not allowed. What a shame, this way we influence our children's thinking, we rob them of the courage to try new things and as adults, we are merely copies of the norm because we have lost every bit of originality. Dare to do something new, something different to every day, try a new recipe, get to know new people, learn a new hobby, travel to a new place, get acquainted with different disciplines, with other opinions, talk to outsiders, listen to them. Only those who have the courage to look beyond their own nose will also have the courage to follow their own and original path in life. Everyone can follow. Doing something different to the mainstream, that requires courage. There is a reason for the German proverb 'the world belongs to the brave'. There's only one thing to consider on the topic of courage and that's not to become too carefree. I'm wishing you a good week with a healthy dose of courage.