Viele Menschen glauben sie könnten nicht zaubern. Dabei zaubern wir täglich, erkennen es bloß nicht. Hören Sie mal gut zu wie verzaubert wir leben. Wir sagen im Alltag: "was hast zu für ein wunderbares Essen gezaubert" "du siehst heute bezaubernd aus" "was ist das für eine zauberhafte Musik" "du hast mich verzaubert"…
Zaubern ist nichts anderes, als einen Zustand zu verändern. Wir stellen etwas her, wandeln etwas um, erfinden etwas Neues, schreiben neue Texte, entwerfen neue Ideen.
Max Weber schrieb 1920 in seinem berühmten Werk "Die protestantische Ethik und der Geist des Kapitalismus", dass durch die Entwicklung nach der Aufklärung, die Welt entzaubert wurde. Alles wurde Menschen möglich, alles war denkbar und machbar, rational begründbar. Alles Wunderbare und alle Magie mussten dem rationalen und beweisbaren Denken weichen. Was für eine herzlose Wellt haben sich die Menschen damit gezaubert, ohne es zu wissen?
Vielleicht können wir die Welt ja wieder in eine wunderbare Welt verzaubern, durch all das Wunderbare, das wir entdecken und erleben dürfen, durch wunderbare Töne, die wir hören, die schönen Bilder, die wir sehen, Düfte, die wir riechen und Genüsse, die wir schmecken, durch Neues, das wir erfinden…
Trauen wir uns wieder das eigene Leben zu verzaubern. Der Zauber ist der Stoff aus dem die Märchen sind.
Eine zauberhafte neue Woche
Gertrud Müller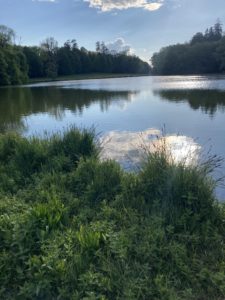 The art of magic
Many people believe they cannot do magic. However, we do magic every day, we just don't notice it. Listen carefully to our magical lives. We say 'you've magicked up a nice meal', 'you've put a spell on me', 'you look charming', 'what enchanting music'. Performing magic is no different to changing a situation. We produce something, transform something, invent something new, write new texts, develop new ideas. In 1920, Max Weber wrote in his famous work 'The Protestant Ethic and the Spirit of Capitalism' that the world was disenchanted following the Enlightenment. Everything became possible, everything was imaginable and doable, could be explained rationally. Everything wonder-ful and magical had to give way to rational and provable thinking. What a heartless world people have conjured up without knowing.
Maybe we can do magic and transform the world into a wonderful world again through our wonderful experiences that we may discover and encounter,  through wonderful sounds that we hear, through beautiful images that we see and treats that we taste, through new things we invent, …
Let's dare to enchant our own lives again. Magic is what fairytales are made of. Maybe one day we'll say there was a time when people couldn't see miracles and magic any more, a time when people fought about who was right, when people waged wars and treated each other badly. Fairytale heroes manage to overcome situations that aren't satisfactory.
Have a magical new week.
Gertrud Müller