Immer wieder wird das Leben eng, zu routiniert, gerät in den Strudel der lähmenden Pflicht, das Alte ruft nach Erneuerung. Wir wünschen uns frische Energien, Befreiung aus der Enge und neue Erfahrungen. Hamsterrad und ewig gleicher Trott sind kaum auszuhalten. Plötzlich passiert etwas, wir begegnen neuen Lebensmöglichkeiten,  kreative Menschen erfinden etwas, Pioniere machen neue Entdeckungen. Und wie im Film finden wir uns in einer neuen "Realität" in einem anderen Land, in einer anderen Lebenssituation, in Freud oder Leid der Veränderung. Was Leid war löst sich auf, was Freude war verblasst. Leben heißt Transformation, die wir selbst als Individuen oder Kollektiv hervorbringen. Wer nicht akzeptiert, dass sich Leben verändert, der stirbt schon vor dem eigenen Tod oder beginnt nicht wirklich zu leben.
In diesem Sinne begrüßen wir das Neue es zeigt uns, dass es wertvoll ist weg zu kommen vom alten und verbrauchten Lebensmustern, hin zu neuen Erfahrungen. Von der Natur lernen wir, dass neues Leben nicht bedeutet, dass es keine Verlässlichkeit gibt. Die Natur findet die Balance zwischen Anfang und Ende, zwischen Gewitter und Stille, die Natur ordnet gegensätzlichen Energien und bringt sie wieder zu neuen Harmonien, ein beständiges Spiel, das wir stets auf neue bewundern.
Wie können wir dieses uralte Wissen aus dem Spiel der Natur verstehen und für uns nützen?  Ursula Becker-Peloso und ich, machen uns seit Jahren Gedanken wie ein gesundes Leben im Einklang mit der Natur gelingen kann, im eigenen Leben und im Zusammenleben mit anderen. Wichtige Schlüssel dazu bilden die angeborenen Lebensenergien und die Balance, die jeder für sich und mit anderen finden kann. Aus unserer langjährigen Erfahrung im Bereich Gesundheit und Bewusstsein ist die Philosophie und Methode von lifenergy.healthcare entstanden. Ab 1.11.2021 bieten wir Seminare und Coachings an um Gesundheit und ein langes und glückliches Leben zu fördern. Schauen Sie sich lifenergy.healthcare an es lohnt sich!
https://www.lifenergy.healthcare/
Eine schönen neue Woche gerade dann, wenn die Zeichen auf Veränderung stehen.
Gertrud Müller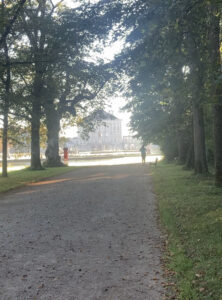 Over and over, life becomes tight, too routine, gets caught in the current of paralysing duty, the old screams for renewal. We yearn for fresh energies, liberation from the tight spot and new experiences. The rat race and the daily grind are almost unbearable. Suddenly something happens, we find new opportunities in life, creative people invent something, pioneers discover something new. And just like in a movie, we find ourselves in a new 'reality', a different country, a different life, in the joy or despair of change. Suffering resolves, joy fades. Life means transformation which we bring about ourselves, individually or collectively. He who cannot accept that life changes dies before their own death or never really starts living.
In this spirit, let's welcome the new. It shows us that it is worth getting away from old and used up ways of life, toward new experiences. We learn from nature that new life does not mean there is no reliability. Nature finds the balance between beginning and end, between storms and stillness, nature orders opposing energies and brings them into harmony, a constant act that we continually admire anew.
How can we understand this age old wisdom of the act of nature and use it for our benefit? Ursula Becker- Peloso and I have been working together for years to identify how we can succeed in leading a healthy life in line with nature, both in our own personal lives and in community. Inherent life energies and the balance that everyone can find for themselves and with others provide the key for this. Our long-standing experience in the areas of health and consciousness gave rise to the philosophy and method of lifenenergy.healthcare. From 1st November 2021, we are offering seminars and coaching to foster a long and happy life. Have a look at  https://www.lifenergy.healthcare/.
Have a great new week, especially when all the signs are pointing to change.