Ohne Perspektive können wir uns nur vage auf den Weg machen. Auch das Navi findet den Weg nicht, wenn wir kein konkretes Ziel eingeben. Wir können uns gelegentlich vom Leben überraschen lassen, wir können uns anderen anschließen ohne an das eigene Ziel zu denken. Wir können uns beklagen und über die Umstände jammern. Eines Tages wachen wir auf, wundern uns und fragen uns: wo sind wir da hingeraten?
Spätestens jetzt haben wir neue Möglichkeiten, wir können ein neues Ziel, eine neue Perspektive wählen. Am Ende des Lebens möchte jeder auf einen Lebensweg zurückblicken, den sie oder er selbst mitbestimmt hat. Darum ist es wichtig, dass wir immer wieder aufs Neue prüfen: bin ich auf dem richtigen Weg? Ist es das Leben, das ich führen möchte, ist das der Weg, den ich gehen möchte? Welche neuen Perspektiven bietet das Leben? Wo möchte ich hin, was gibt es für Möglichkeiten? Wenn wir uns auf diese Lebensreise einlassen, dann bleibt das Leben spannend und interessant bis ins hohe Alter.
Viel Vergnügen beim entdecken neuer Möglicheiten
Gertrud Müller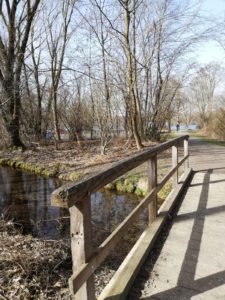 Photo Silvia Tauchmann
Prospects
Without a goal, we can only have a vague idea where we are going. The satnav won't find the way if we aren't putting in an exact destination. Sometimes, we can only take life as it comes, we can follow others without thinking about our own goal. We can lament our circumstances. One day, we wake up, are surprised and ask ourselves: where did I get to? At the latest at this point we have a new opportunity, we can choose a new goal, a new prospect. At the end of life, everyone wants to look back on a life that he or she had a part in shaping. That is why it is important to question over and over again, am I on the way that is right for me? What new prospects does life offer, where do I want to get to, what opportunities do I have. When we engage with this journey of life, life remains exciting and interesting right up to old age.